Makeup for Mature Skin | Everything you need to know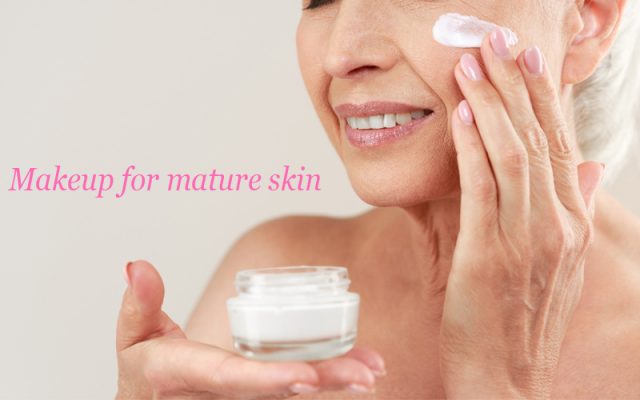 Makeup is a great tool that enhances your beauty. It is a form of art and a lot can be done and experimented with it. However, makeup for mature skin can be a little tricky with all those wrinkles and blemishes. Mature skin becomes dull, loses its glow and shine. With age a lot of many problems come into the task. However, we have you covered. Follow these tips to achieve flawless makeup:
Make sure you prep your base well as that is the core of makeup. This will involve prepping your skin with a good face wash, scrub and pack in order to get that glow back from the dull and ugly skin that mature women have, unfortunately. Use a light moisturizer to hydrate the face and for makeup to sit on very well. Later apply a primer, to give a dewy finish. All of this skin prep might sound a lot but it is extremely important so don't skip it.
Them wrinkles, hide them conservatively:
You cannot cover up wrinkles, so don't try as it will only draw the attention more towards them. Rather use a wet soaked up sponge to apply the foundation as it will really make the makeup not look plastered on your face and will make it look natural. Most women get dark circles by the age of 40. Also darkness around eyes and lips. Cover all that up with a good concealer. A concealer is literally the best friend for mature skin type women as it will do all the job that needs to be done.
As we are talking about the base only, make sure while choosing a foundation you don't make an exact match to your skin. It will make you look washed out. Instead, take a few shades warmer. Great trick right? This will ensure your skin looks way younger than it is. Mature skin becomes light and pale and dull. Hence warming up is important.
Apply cream blush and sculpt it:
While applying a blush don't apply it on the apples of your cheek. Instead, apply it to the cheekbones. This will ensure your face looks sharper. Also, go with a cream blush rather than a powder blush. Be specific with your products, we want to bring a lot of glow back into the face. Don't forget that.
The next step is the eyes. Now here comes the tricky part. You want to make sure you make the eyes look as big as possible as that will make them look youthful. Start by applying a lot of mascara. Curl up your lashes tremendously. Use a light pale eyeshadow such as nudes and stay away from dark brown tones which are used in normal day-to-day life.
As you grow older, your lips look kind of asymmetrical. In order to tackle this, use a lip liner. Line your lips with one or two tones of darker lip liner than your usual lipstick. Follow this with lipstick or lipgloss.
There you are all ready, easy right? Keep practicing these steps and ultimately you will perfect them. Best of luck!