YouTube VS Twitch? Which one is better?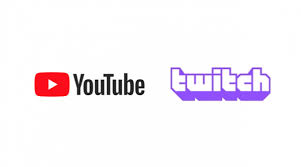 Youtube and Twitch here are two different media product that has entered into the world of gaming and a platform for all the gamers.
In today's time when both the application has grown enormously in the market, there is always a debate or question raised for selecting the better one between them.
I am sure that you may have faced the same question in your mind that has made you land on this page. And yes we are grateful to solve your confusion. Let's move forward with this Question and dig-in all reasons for one being the better platform.
You tube-launched its gaming application called YouTube gaming in 2015 when the market was dominated with other similar application like Twitch. All the gamers, streamers, and viewers were amazed to see YouTube as a new platform in gaming.
After 4 years of YouTube being in the market, it has been successful in holding a strong position in the market. Though Twitch has also remained strong in the market without losing its identity and there is no such hamper seen to be made by YouTube on Twitch.
In this case, the choice of the platform ultimately depends upon the preference and liking of a user to the platform. So at the end of the day, it is all about the choice made by the users on the basis of their journey and experience.
This article will go into the pros and cons of both Twitch and YouTube.
YouTube
Pros-
As YouTube has a very large audience uploading anything on YouTube will give you a better fan base.
It is very easy and has user-friendly navigation.
YouTube is a platform that may give you a consistent following as we all know that millions of people use YouTube on a daily basis.
Cons-
YouTube as a platform has an enormous number of creators, though there are millions of users at the same time the platform is also flooded with video creators and this will result in scenarios wherein it will be hard to be noticeable.
Though YouTube has Gaming and Live streaming, the number of users indulging in the following is not large. YouTube seems to serve a different purpose primarily and hence the streamers may not get the exposure they are looking for.
It is really hard to get recognized on YouTube.
YouTube at the same time entangled the user in certain restrictions that may come in their way of delivering something extraordinary and hence they may be unable to show up their creativity.
Twitch.
Pros-
It is a great platform to live stream as the purpose of the platform is generally the same.
Moreover, there is no completion between creators as much as it is there on YouTube.
Twitch also plays an important role as the user are funded and they have a certain kind of revenue generation because of the subscription system of the platform.
The emos feature on Twitch helps them to grow more as it let them connect to their audience.
Cons-
The user's journey on Twitch is not as easy as it is on YouTube
The streamers need to be live for a very long time as they are expected to be a part of it. And this makes streaming really hard on Twitch.
It is really hard to be entertaining as the longer the video goes, the more things you should have to keep your audience on stream whereas in YouTube the videos are not very long.
Though Twitch gives great revenue it is hard to earn on Twitch as the more the competition, the more you need to be extraordinary. Hence it takes time to build that image on Twitch and gain subscribers.
Money.
If we compare both the platform in terms of earning, Obviously YouTube will be easier than Twitch. But yes once you are famous on Twitch the revenue generated here is far better than YouTube.
So yes You Tube will give you a smooth journey at the start but Twitch will have a better response at the end.
So yes at the end of the day it all depends upon your own preference and your needs. So for the online streamers, Twitch will be a better option whereas for many other purposes You Tube will serve the best opportunities.
And also whatever platform you choose the dedication you put into it will take you somewhere and not only the platform. So yes be smart and chose smart depending on your needs.