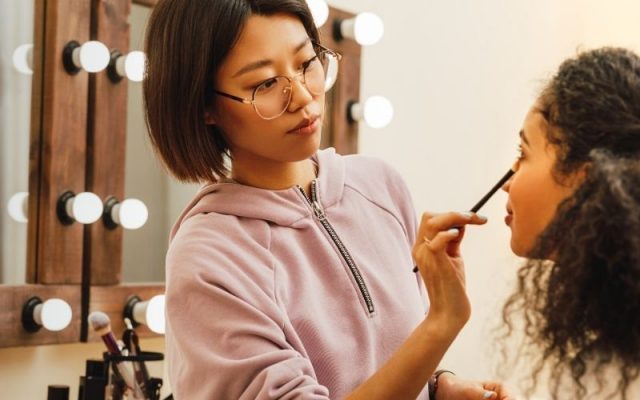 Do you dream to be a makeup artist? Do you love makeup, brushes, and love to change the appearance of your body? Well here is a perfect career option for you…Makeup Artist.
Makeup is not about painting a beautiful mask to hide your face, but it is a skill to accentuate one's natural beauty. It all about bringing your hidden beauty forefront. And if you are quite passionate about makeup then this might be a perfect opportunity for you to showcase your skill and row in the same.
What is a makeup artist?
Makeup artists are individuals who use various beautician techniques to transform a person. In simple words, a makeup artist uses various products and techniques to accentuate a person's appearance, adding colors to the face, highlight some features, contour others, and concealing all flaws.
A makeup artist can be categories into two main categories:
Cosmetic or Fashion Artist: They are a makeup artist who makes their subjects look their best. They understand how to set symphony between makeup, photography, and lighting and eventually leads to present their models best and glamorous.
Theatrical makeup Artist: They are more of a character play; they do makeup to enhance an actor's face according to the role he is playing.
Makeup Artistry Career Options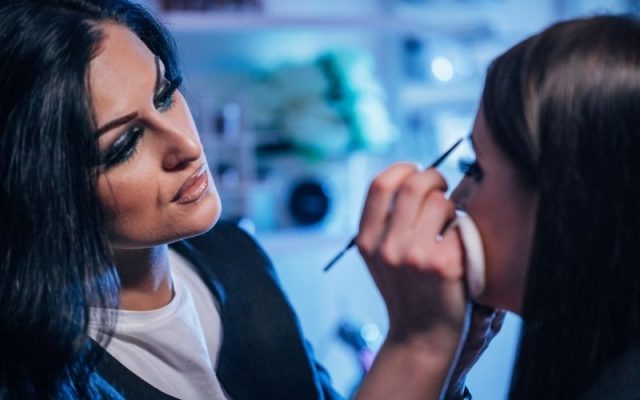 So now that you have decided to become a makeup artist you should choose among the best makeup career options. It will help you to earn a decent wage, maintain a good lifestyle.
Celebrity Makeup Artist
Celebrities are rich customers that will offer you a nice sum of money for a perfect makeup look. So if you have a wonderful personality and love flexibility then this career option is right for you.
Theatrical Makeup Artist
A Theater actor uses his emotions and expressions to express his character successfully. A Theatrical Makeup Artist can help them by accentuating those facial expressions and make his features look more realistic.
Freelance Makeup Artist
So you are a free bird? Want to work on your demand and schedule? Try your hands in Freelance Makeup Artist, it is a flexible career option all you need to apply the right marketing and advertising strategies and you are all set.
Special FX Makeup Artist
Do you love to do weird or character-play makeup? Special FX Makeup Artist is the magician behind those realistic zombies, aliens, etc.
Beauty Blogger/vlogger
Do you think you know everything about makeup, even all tips, and tricks? Then why don't you share it with people? You can either try Vlogging on YouTube or try to open your blog.
Makeup Product developer
Do you love to mix different foundations, lipsticks, or eye shadow just to create a perfect match for you? Try developing your makeup products and shake the whole makeup industry.
Reasons Why You Should Pursue Makeup Artist as a Career
If you are passionate about makeup and you trust your skills then you don't need any other reason to become a Makeup Artist. But if you just want to look at some benefits then here are:
– Flexible work environment
– Space to use Creativity
– Working with interesting peoples
– Great opportunities to row
– Great wages
Career as a Makeup Artist
So how do become a Makeup Artist?
Qualifications
Almost anyone skilled can enter the beauty industry, but still gain some early advantages:
– Degrees related to fashion, fine arts, visual arts, costume design, etc
– Diplomas in Makeup, Fashion, Visual art, etc.
Skills
What are the skills required to become a Successful Makeup Artist?
Creativity
Communication
Adaptability
Knowledge in makeup techniques, products, and tools
Teamwork
Confidence in your skill
Business sense
Self-motivated
Time management
Handle stress
Makeup artists are required to be available whenever their clients want, they need to flexible and adaptable. Sometimes they will have to work for hours, morning shifts and sometimes at night.
To succeed in this you need to improve your skills, knowledge, and passion continuously. You will need to be calm and control your anger as sometimes clients can throw tantrums. You also need to take proper care of yourself and present yourself as a smart, beautiful, and outspoken person.