10 Makeup products with Salicylic Acid and How it is good for you!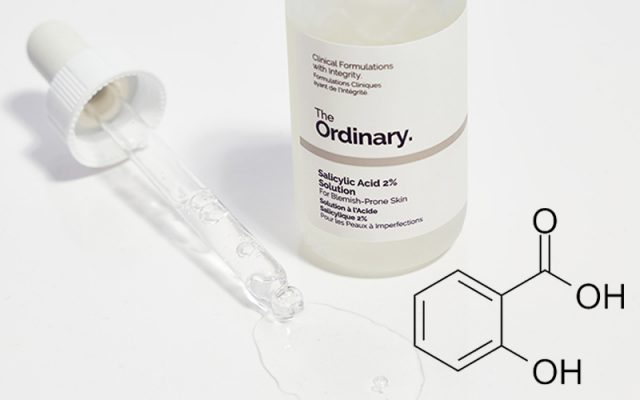 When was the last time you checked the ingredients list of products you apply to your skin? If you often check your Makeup Product's ingredients list-one the ingredient you will find often is- Salicylic acid.
Salicylic acid is commonly known as a wonder-worker. It is known to treat blackheads, whiteheads, pimples, or any other blemishes. That's why it is one of the most used ingredients in makeup products.
What is Salicylic Acid?
We often see the use of two classes of acids in a skincare product: beta hydroxyl acids (BHAs) and alpha hydroxy acid (AHAs).
Salicylic acid is a beta hydroxy acid. This acid is extracted from the bark of a willow tree. Salicylic acid belongs to a class of chemicals called salicylates. The salicylic acid structure makes it more oil-soluble and can penetrate deeper into the pores of the skin.
Once it penetrates the skin, it dissolves debris and unclogs pores. And thus helps to treat blemishes, pimples, acne, etc.
Salicylic acid is also known for its exfoliating property. They are used to treat red inflamed pimples and pustules.
What are the benefits of Salicylic Acid for the skin?


Salicylic Acid is used to treat a variety of skin problems. So let us look into the benefits of Salicylic acid for our skin…
Exfoliates our skin
Salicylic acid is a keratolytic medication and encourages cellular turnover. It, therefore, helps to soften and sloughing off dead skin and improve skin complexion and texture.
Unclogs clogged pores
Salicylic acid is oil-soluble hence can penetrate deeper into the skin through pores. They loosen and break apart desmosomes, which is a kind of glue between cells in the outer layer of skin.
This action encourages skin exfoliation and removes dirt and oil from clogged pores. It eventually minimizes pores.
Treats blackheads and whiteheads
Salicylic acid dissolves directly the keratin plus and dirt. And thereby prevent blackheads and whiteheads.
Removes excess oils
Salicylic acid penetrates the skin and dissolves excess oils, sebum from the skin pores, and reduces oiliness.
Reduce inflammation and redness
Salicylic acid is also known for its anti-inflammatory properties. It soothes inflammation and reduces irritations and redness related to breakouts. It also treats red pimples.
Acne
Salicylic acid is one of the most used ingredients to treat acne.
First of all, let's look into the causes for acne: sloughing off of skin cells, excessive oils, bacteria, and clogged pores.
Salicylic acid exfoliates the skin, removes excess oil, and dissolves oil, dirt, and acne-causing bacteria due to its antibacterial property.
Salicylic acid is beneficial for our skin but is good in makeup products?
Is salicylic acid good in makeup products?
Makeup is now used by everyone. They help to accentuate feminine features. But it can be a major reason for skin breakouts, bumps, acne among young teenagers to mid-age women.
Makeup can clog your skin and causes different skin issues…no I didn't mean to ditch all your makeup altogether… So how can you avoid these problems?
Next time you buy any makeup products just check its ingredients label and search for: salicylic acid, tea tree extracts, or AHAS. These ingredients are beneficial for your skin.
So is salicylic acid good in makeup? Yes, it is not just good by very good. You should buy makeup products like foundations, concealers with salicylic acid.
Unless your heavy foundations contain salicylic acid avoid it. As it will clog your skin pores can cause breakouts.
Makeup Products with Salicylic Acid
Let us help you to choose makeup products. In this list, we have listed some makeup brands and their product which contains salicylic acid and are oil-free.
Cover FX Weightless Primers: Gripping, Dewy Skin, Blurring, Mattifying, Water Cloud Primers
Neutrogena's SkinClearing line makeup
Almay's Clear Complexion Blemish Healing Liquid Makeup
Clinique's Acne Solutions Liquid Makeup
LORAC POREfection Baked Perfecting Powder
Hourglass Veil Fluid Makeup
It Cosmetics Bye Bye Breakout Powder
Cover FX Mattifying Primer with Anti-Acne Treatment
BareMinerals Rose Radiance Loose Highlighting Powder
Tarte Shape Tape Matte Foundation