[13 Features] Is WordPress a good Website Builder?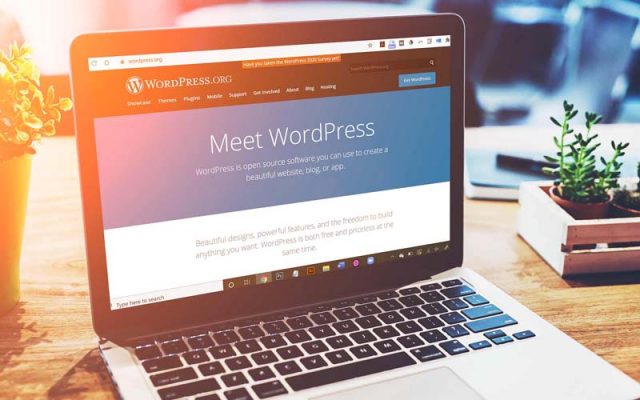 Looking for a good website builder? Well, here are some best features of WordPress that will complete your search and make you fall for it.
Nowadays, it has become compulsory for every business to own a website. But not everyone is a tech pro or can afford to hire a website developer for it. But there is a solution for every problem and here is one for you: A Website builder.
You can find different Website builders out there providing different services with some unique features. But which one you should choose? If you ask us we would recommend you WordPress Website builder.
WordPress
WordPress is one of the most popular and free Website builder software in the world. Moreover, it powers around 41% of websites over the internet and the figures are rising continuously.
WordPress is a powerful Content Management System and an excellent platform one can use to build a website. It is an open-source and free website builder platform. It provides you the freedom to do almost anything with your website.
But what makes it the best choice as a Website builder are its Features. is WordPress the best website builder. So lets us look into it.
Best Features of WordPress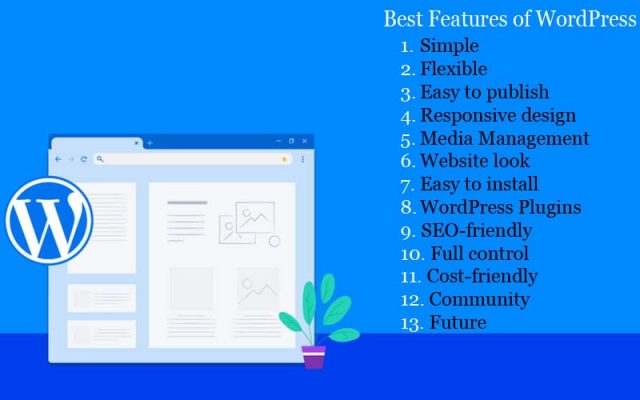 Here are some features of WordPress which make it a popular choice among website owners.
Simple
No matter if you are an expert or an amateur in Website development, you can manage it with the help of WordPress. It makes it possible for anyone to open a website and run it smoothly. You can add or manage your content easily.
Flexible
WordPress CMS is an open-source platform which facilitates user to create any Website.
For instance, you can create an eCommerce store, personal blog, a business website, portfolio, government website, or even an online community.
Easy to publish
With WordPress, you can create a Post or a Page, edit it, insert media and post it with a few easy steps. It even offers you different tools to help you throughout the procedure.
Responsive design
Different users use different devices to access the internet. Therefore your website should be optimized for each device.
WordPress offers you a responsive design that helps your websites to run seamlessly on every device.
Media Management
A website can be boring without images, videos, or other elements. With the help of WordPress, you can change the look of the website by adding different media with a drag and drop system.
Website look
A beautiful, easy to access, and fast loading website can attract traffics. WordPress offers you many options of themes and free website templates.
You can choose one according to your need or the trend of the industry and give your dull website a new look.
Easy to install
WordPress is super easy to be installed or upgrade. You can choose any web host and with one click it will be done.
You can also create using FTP program by creating a database and uploading Wordpres and then run an installer.
WordPress Plugins
WordPress offers you different services but not everyone is at its core. Therefore you can add any feature or function you want through its plugin directory. WordPress plugins directory offers you more than 58,000 plugins.
WordPress offers you a multitude of plugins options, each offering different services and features.
SEO-friendly
Search engines love WordPress-built websites, as their code is simple and neat. This makes it easy for it to read and index the contents.
Moreover, it offers different WordPress plugins, for instance, all in one SEO pack, SEO by Yoast, Google XML Site Map. They help you to improve your Website ranking and increase traffic.
Full control
WordPress offers you full control over your Website. You are free to install, use, change or distribute it under GPL license.
Cost-friendly
WordPress is an open-source platform which makes it cheaper. It helps you to build a website with the least cost expenditure.
Community
Struck in a problem? Ask the WordPress community about it and they will help you. This is an interesting feature of WordPress.
WordPress has a big community who are ready to help the user with their problems.
Future
With WordPress, you can make your website compatible with the future generation. WordPress code is set with the compliance of W3C.
Therefore your Beautiful website will remain intact on the web no matter the generation.
In conclusion, WordPress is a good choice for anyone who wants to own a website. It offers you a multitude of services and makes your journey smooth and easy.
You can make almost any kind of website with it whether it's a professional website or a simple WordPress blog.